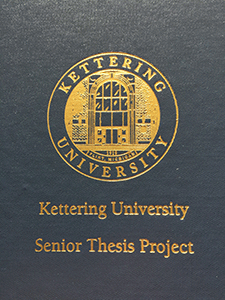 Layout Option
Mechanical Engineering
Sponsor
Kettering University
Term of Thesis Completion
Winter 2021
Type of Thesis
Research Thesis
Document Type
Exemplar Thesis Examples for Content
Degree Name
Mechanical Engineering
Department
Mechanical Engineering
Abstract
The Pine Ridge reservation in South Dakota is the home of the Oglala Lakota people. The reservation covers two of the poorest counties in the United States with an average household income of $8,000 and 89% unemployment rate. Rampant poverty among the Oglala Lakota prevents investments in reliable infrastructure for the community as a whole, and individual poverty prevents families from securing access to electricity from the FEMA housing where they live. The scope of this project is to investigate the concept of small- scale sustainable energy production on the Pine Ridge reservation through assessment of a self-constructed wind turbine to be approachable, affordable, versatile, efficient, and durable. For each of these criteria, a prototype and two retail wind turbines were evaluated and compared to identify the best possible solutions to address the problem of energy reliability.
The landscape and climate on the reservation contributed to pursuing wind energy on the reservation. Investigation of vertical and horizontal axis turbines led to the development of a working prototype. The prototype, a homemade vertical axis wind turbine, was constructed from scrap and locally available materials to similar size and specifications as two retail turbines. In order to evaluate the prototype, an experiment was developed with the use of a testing rig built onto a farm wagon. The testing apparatus featured an anemometer capable of measuring wind and gust speed, and the rig was designed to elevate, orient, and measure the output of three turbines. A test conducted by measuring voltage and current output from each turbine determined the plausibility of small wind turbines to produce power. The experiment disproved the reported manufacturer energy output for the retail wind turbines and established the horizontal axis turbine style as more efficient than vertical axis type turbines. The constructed vertical axis prototype had a comparable output to the retail VAWT, both with a lower variation and magnitude when compared to the HAWT.
Affordability for a home-built wind turbine was evaluated by directly comparing the cost of retail turbines compared to the cost of materials needed to build a turbine from scrap. Subjective comparisons for Durability, Approachability, and Versatility were conducted between the retail and prototype turbines using weighted tables. The result confirmed that wind turbines are a plausible, scalable solution to energy reliability and could be produced using simple fabrication and assembly methods.
Recommended Citation
Wendling, Sean, "Proof of Concept for Durable and Sustainable Small- Scale Energy Production on Native American Reservations" (2021). Exemplary Thesis. 8.
https://digitalcommons.kettering.edu/exemplary_thesis/8