Preview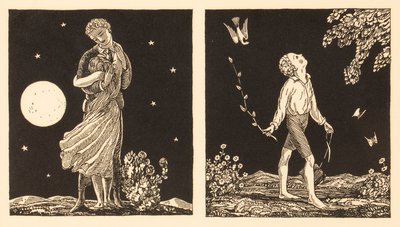 Description
In recognition of National Library Week, April 2-9, 2022, the artwork 'The Seven Ages of Man' by Rockwell Kent is being highlighted. The illustrations, 'Boy with Books' and 'Embrace', are from a 1918 portfolio inspired by As You Like It by William Shakespeare.
Rockwell Kent (1882-1971) began his studies at the Columbia University School of Architecture, however, his summers spent at William Merritt Chase's art school in Long Island shifted his educational focus to the permanent study of art. His scholarship to the Art Students League in New York expanded his network of American artists, which included Robert Henri, George Bellows, Abbott Handerson Thayer and Edward Hopper. His early landscape paintings were first shown at the Society of American Artists in 1904 and his first solo show was held at the Clausen Galleries in 1907 in New York.
In the 1920's, Rockwell Kent began experimenting in various forms of printmaking, which included bookplates and illustrations for classic literature limited book editions such as Moby Dick by Herman Melville and Chaucer's Canterbury Tales. His art and writing were inspired by his explorations to rugged terrains as Alaska and St. John's Newfoundland between 1935-1962. His 1930 memoir, N by E, documented his voyage from New York Harbor to Greenland and is an example of his literary work. His work features symbolic motifs from the natural world as mountains and starry landscapes to create a sense of wonder.